Click Here To View The CYO Bromley Photo Galleries
Programs, Resources, Rentals
A free program for 9-17 year olds operating Monday to Thursday from 6:30-8:30 and Fridays from 6:30-9:30. Activities include pool table, fuse ball, video and board games, socialization, Life Skills (every Monday), movies, special events, and much more. Applicants must fill out the paperwork and show proof of Hamilton residency. To download a registration form click here.
To download a registration form click here.
To download a Fall Teen Flier Click Here
Computer Usage. Computers and Printing is available in the Bromley Center lobby between the hours of 9am to 4pm. No appointment is needed to aces the computers for usage
Food Pantry. The Food Pantry is designated to distribute free, federally funded and privately donated food to eligible, needy persons in Hamilton Township. The Food Pantry operates Tuesdays and Thursdays only from 9:30AM-11:30AM and 2:30PM-3:30PM. To be eligible applicants must show proof of income and residency.
CYO Bromley Center receives $5,000 grant for its Food Pantry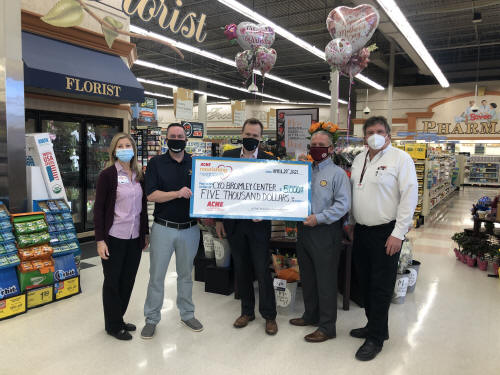 CYO Bromley Center receives $5,000 grant for its Food Pantry through Acme's 130 days of Nourishing Neighbors Campaign. Pictured left to right at the Yardville ACME are: Jennifer Kubicke from Acme, Patrick Hardiman, CYO Bromley Director, Hamilton Mayor Jeff Martin, Tom Mladenetz, CYO Executive Director, and Jeff Miller from Acme.
The view a video from United Way on Striking Out Hunger click here
Summer Food Service Program. The CYO Bromley Neighborhood Center is pleased to announce The Summer Food Service Program. This is a free lunch program for Hamilton Township residents between the ages of 5-14. The children must be registered at the Center in order to come and enjoy lunch.
Lunch is served Monday through Friday from June 27 - August 19 from 12:00 - 2 PM. For more information call the CYO Bromley Center at 587-8100.
To download a Summer Food Service Program Flier and Application click here
Hall Rentals. Hall rentals are available at the Bromley Center in the Social Hall year round on Saturdays and Sundays. The Community room can be used for birthday or anniversary parties, bridal showers, baptisms, communions, or confirmation parties for example. No alcoholic beverages are permitted. There are different fees based on the number of people attending, the day of the week, Hamilton resident, non resident, or Holiday rental.
Bromley Hall Rental Forms
Hall Rental Application - Rental Fee Breakdown
Hall Rental Cover Sheet - Hall Rental Fee Sheet - Rental Rules & Regulations
Teen Rental Fee Breakdown - Teen Party Rental Fee Sheet
Summer Camp 2023
Summer Camp for 5-9 year olds for eight weeks from June 26 - August 18. Camp hours are 8am - 5pm. The cost is $120 a week or $760 for all 8 weeks. Child Care Connection vouchers are accepted. All COVID 19 safety procedures and protocols will be in place. For more information contact us at 609-587-8100, hurry spaces are limited.
2023 Summer Camp Forms
To download a Summer Camp flier and registration form click here.