Free Easter eGG hUNT Saturday April 1, 2023
Farmingdale Park, Nottingham way, Hamilton, N.J.
Pizza Party To Follow At Cyo Bromley Center, 1801 E. State Street
Children Ages 3 to 10 (Rain Or Shine)
2022 CYO Bromley Center Children's Christmas Party Photo Gallery
To read the article on the CYO Bromley Food Pantry Grand Re-Opening click here.
2022 CYO Bromley Neighborhood Clean Up Day Photos
2022 CYO Bromley Easter Party
Hamilton Township recently honored three Hamilton Township students
with the Dr, Martin Luther King Jr. Community Service / Scholarship Award.
The recipients were:
Samantha Marusky from Steinert, Sherlyn Rodriguez from Trenton Catholic Preparatory Academy,
and Zainab Iqbal from Nottingham.
Scholarships sponsors were, CYO Bromley Center, Faith Baptist Church,
Spiritual Assembly of the Baha'is, and Quincy Hendryx
Annual Thanksgiving celebration photo gallery
Fall Food Festival Photo Gallery
CYO Bromley Center receives $5,000 grant for its Food Pantry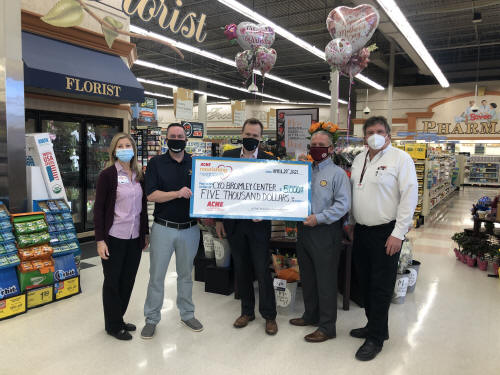 CYO Bromley Center receives $5,000 grant for its Food Pantry through Acme's 130 days of Nourishing Neighbors Campaign. Pictured left to right at the Yardville ACME are: Jennifer Kubicke from Acme, Patrick Hardiman, CYO Bromley Director, Hamilton Mayor Jeff Martin, Tom Mladenetz, CYO Executive Director, and Jeff Miller from Acme.